Friday newsletters always feature travel contests, tips, or news.
Today: July 2022 luxury travel news
Every last Friday of the month, you can read my news round-up of what's happening in the world of luxury travel and aviation. In this issue:
---
1. Air New Zealand unveils new Business Class & sleeping pods in Economy Class
Air New Zealand's new Dreamliners, due to arrive in 2024, will include a new Business Premier Luxe seat, designed for passengers looking for more space and privacy, and Skynest, the world's first sleep pods in the sky for Economy travelers. Feedback from extensive customer research over five years has highlighted the importance for a good night's sleep and the need for more space and comfort, so the new experience is designed around creating a home away from home that leaves customers refreshed and raring to go at their destination. Air New Zealand CEO Greg Foran points to the airline's ambition to create the greatest flying experience: "New Zealand's location puts us in a unique position to lead on the ultra-longhaul travel experience. We have zeroed in on sleep, comfort, and wellness because we know how important it is for our customers to arrive well-rested. Whether they are heading straight into a meeting, or to their first holiday hotspot – they want to hit the ground running." Below is a video highlighting the future Air New Zealand cabins.
---
2. Bulgari will open a resort in the Maldives
Bulgari Hotels & Resorts has announced plans for Bulgari Resort Ranfushi, to open in 2025. Bulgari Resort Ranfushi will be set on Raa Atoll in the Maldives archipelago and comprise 20 hectares of pristine natural beauty. Like all Bulgari Hotels & Resorts properties, the Italian architectural firm ACPV ARCHITECTS Antonio Citterio Patricia Viel will lead the design of the Resort, which will adhere to the strictest sustainability standards in every area. Surrounded by crystal clear waters and lush gardens, the property will comprise 54 keys including an exclusive Bulgari Villa on its own island, 33 beach villas with individual swimming pools and 20 overwater villas. The resort will be home to four signature Bulgari culinary experiences: Il Ristorante – Niko Romito, the Chinese fine dining restaurant Bao Li Xuan, Japanese concept Hōseki and the relaxed La Spiaggia. It will also feature iconic Bulgari Hotels & Resorts destinations including The Bulgari Bar, The Bulgari Spa, Bulgari boutique and La Galleria.
---
3. The Ritz-Carlton debuts a luxury hotel in the heart of Manhattan
The Ritz-Carlton, part of Marriott, announced the opening of The Ritz-Carlton New York, NoMad, debuting a new oasis of modern luxury in the heart of Manhattan. Soaring 50 stories above Madison Square Park, the newly constructed hotel takes its place within the city skyline as one of the tallest buildings in NoMad, the birthplace of American popular music at Tin Pan Alley and today a nexus of art, entertainment, fashion, and technology. The 250 guestrooms and public spaces all showcase elegant floral expressions such as natural elements and textures, that reflect the soft curvature of petals alongside sleek accents and lines, which echo New York City's verticality and city grid. The hotel's food and beverage partnership is truly unique, with all culinary venues and in-room dining helmed by Michelin-starred chef and global citizen José Andrés. The hotel also features a wellness center, including eight treatment rooms as well as separate sauna and steam rooms.
---
4. Rosewood will open a hotel in Xi'an, China
Rosewood Hotels & Resorts continues its global growth with the announcement of Rosewood Xi'an, an urban resort set to join the brand's already robust portfolio of properties across China in 2026. Known as one of the world's four ancient cities, Xi'an is the starting point of the historical Silk Road and home to the Terracotta Army of Emperor Qin Shi Huang, both of which are UNESCO World Heritage sites. Other notable cultural sites nearby include the Du Lin Relics Park, Xi'an Botanical Garden and Grand White Deer Plain. Rosewood Xi'an will feature a total of 180 rooms in addition to four food and beverage outlets including a casual bistro, Chinese restaurant, specialty restaurant and a bar. The hotel will also offer the brand's exclusive executive lounge, The Manor Club, as well as Asaya, Rosewood's integrative well-being concept, which will feature eight treatment rooms, indoor and outdoor swimming pools, a fitness center and a Rosewood Explorer's club with a plethora of activities for children.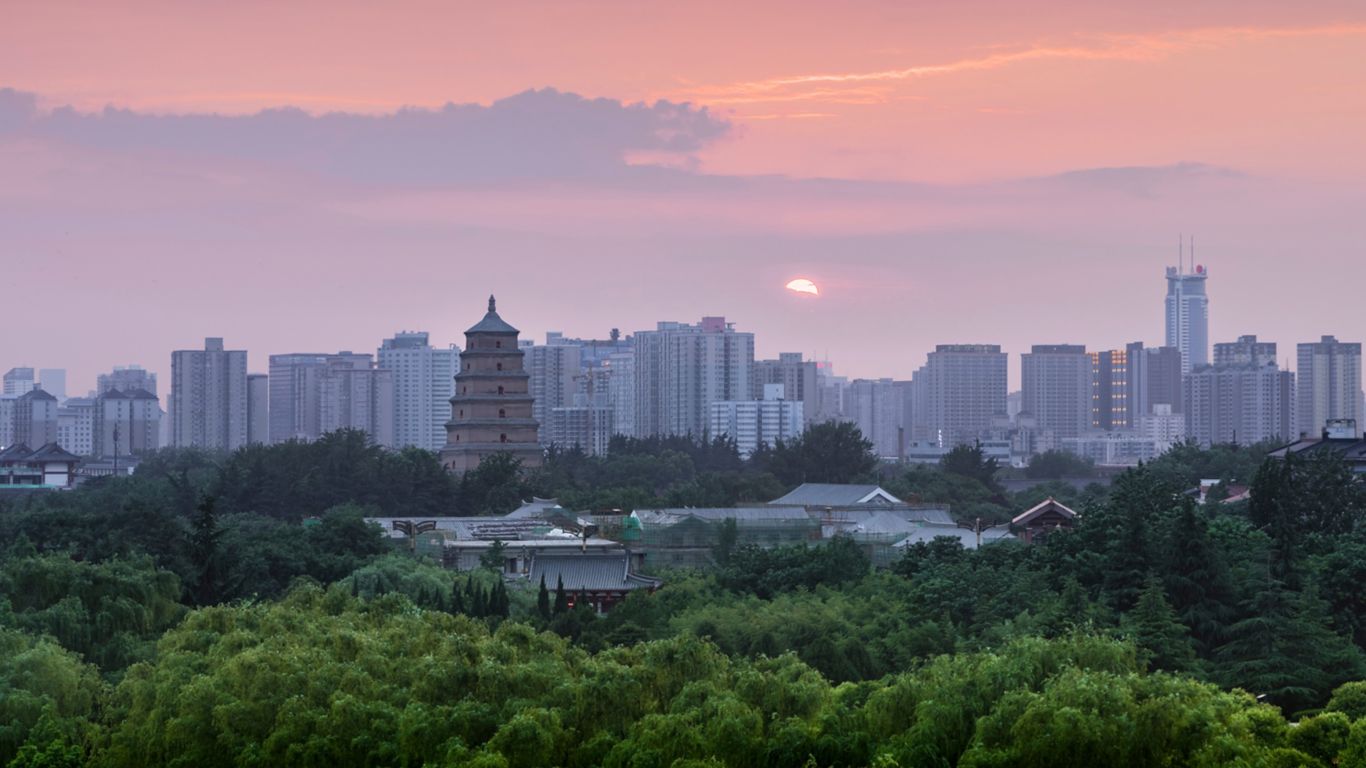 ---
5. W Hotels opens a property in Toronto, Canada
Rising 11 stories in the vibrant neighborhood of Yorkville, the W Toronto Hotel is a celebration of Toronto's storied art scene, diversity of culture, and legacy of non-conformity. Designed by global creative agency Sid Lee, the hotel journey begins on the 6th floor, where the 'Living Room' (the W brand's signature lobby/lounge) drips in jewel tones of ruby, amethyst, and topaz – with curved lines and velvet furniture reminiscent of Toronto's late 60s and early 70s counterculture movement. W Toronto features 254 guest rooms – including 30 suites – with a trendy decor that draws inspiration from Toronto's illustrious theater district. As the sun sets, SKYLIGHT, the hotel's rooftop bar and restaurant, casts a spell on the city's late-night scene with alluring curated cocktails and Mediterranean-inspired cuisine. The indoor-outdoor boho oasis overlooks Toronto's iconic Bloor Street, celebrating the provocative and artistic spirit of the 60s Yorkville hippie revolution.
---
6. Park Hyatt Jakarta officially opens in the heart of the Indonesian capital
Park Hyatt Jakarta occupies the top 17 floors of the 37-story Park Tower in the center of the city's financial and diplomatic district. The hotel's surrounding area, Menteng, was originally conceived in the early 20th century as a garden city and is now known for its peaceful tree-lined streets and elegant heritage architecture. Inspired by the beauty of the Indonesian rainforests, traditional crafts and indigenous natural materials, the hotel design uses elements such as lava stone and copper as well as handwoven ikat textile motifs, intricate wood carvings and shields are used to create a welcoming oasis of calm and elegance for its guests. All 220 rooms come with floor-to-ceiling windows, providing uninterrupted views of Jakarta. Park Hyatt Jakarta's four stylish restaurants and bars create the ideal backdrop for local residents and visitors to socialize, entertain, and relax. Located on levels 34 and 35, the spa and fitness center at Park Hyatt Jakarta offer a choice selection of wellness and leisure experiences.
---
7. The legendary Orient Express will return in 2024
Almost 140 years after the first Orient Express luxury trains changed rail travel forever, the legend continues. Orient Express, artisan of travel since 1883, announces the return of its legendary train and a new and unique format. With the support of Accor Hotels, Orient Express has entrusted architect Maxime d'Angeac with a new mission: to revive the legend, by reinterpreting the decor of the Nostalgie-Istanbul-Orient-Express, in time for the 2024 Paris Olympic Games. This contemporary vision of luxury and extreme comfort will invite travelers to relive the legend aboard 17 original Orient Express cars dating from the 1920s-1930s, adorned with exceptional decor. This set of carriages, most recently known as the "Nostalgie-Istanbul-Orient-Express" was a dream train-cruise inaugurated in the early 1980s by Swiss tour operator and businessman Albert Glatt, and in which ran between Zurich and Istanbul. Under the name of "Extrême-Orient-Express" the train made the longest journey ever between Paris and Tokyo, before stopping a few years later and disappearing.
---
8. Jumeirah opens its first luxury resort in Oman
Nestled within the secluded cove of Bandar Jissah between the Hajar mountains and Gulf of Oman, just 15 minutes from the capital Muscat, Jumeirah Muscat Bay is the ideal spot to spend blissful days on the beach, explore the great outdoors, or venture out to discover the Sultanate's rich history. There are 206 spacious rooms and suites, all assuring breath-taking ocean vistas, with connecting rooms available for families. In addition, five secluded two- and four bedroom summerhouses come with a private pool, dedicated butler service and access to an exclusive private beach. With a focus on exceptional dining experiences, the new resort is home to five diverse venues, overseen by Culinary Director Claudio Dieli, who brings over 26 years of experience in the global culinary industry, including tenures at several international hotels with three Michelin-stars. The resort also features a Talise Spa, with ten treatment rooms, a Hammam, sauna and a steam room.
---
9. InterContinental and Six Senses properties are announced in Grenada
IHG Hotels & Resorts recently celebrated the groundbreaking of its new InterContinental resort on the Caribbean island of Granada. Located on the scenic shoreline of La Sagesse Beach, the InterContinental Grenada Resort is projected to open in 2025 and will feature 150 rooms and 30 suites. The resort's luxurious spa and pool aim to offer an ideal mix of relaxation and seclusion, with the adjacent on-site fitness center further enabling guests to remain active. An array of restaurant and bar options will capture the local culture while amplifying an enriching guest experience. The hotel will be located next to the forthcoming Six Sense Grenada (also managed by IHG), which is set to open in 2023 and which will feature 56 rooms, seven one-bedroom villas and five two-bedroom villas, as well as the Great House, which will offer dining experiences in a flexible series of rooms including a conservatory, bakery, gallery and beach dining room.
---
10. JetBlue buys Spirit Airlines for $3.8 billion USD
JetBlue announced that it will acquire Spirit for an aggregate fully diluted equity value of $3.8 billion USD and an adjusted enterprise value of $7.6 billion USD . "We are excited to deliver this compelling combination that turbocharges our strategic growth, enabling JetBlue to bring our unique blend of low fares and exceptional service to more customers, on more routes," said Robin Hayes, CEO of JetBlue. "We look forward to welcoming Spirit's outstanding team members to JetBlue and together creating a customer-centric, fifth-largest carrier in the United States. Spirit and JetBlue will continue to advance our shared goal of disrupting the industry to bring down fares from the Big Four airlines (American, United, Delta and Southwest). This combination is an exciting opportunity to diversify and expand our network, add jobs and new possibilities for Crewmembers, and expand our platform for profitable growth."
JetBlue plans to bring the JetBlue Experience to all aircraft, offering JetBlue's unique combination of low fares and award-winning service to more customers. The acquisition will accelerate JetBlue's organic growth plan with 1,700+ daily flights to more than 125 destinations in 30 countries based on December 2022 schedules. The acquisition will also increase relevance for JetBlue in certain key focus cities (Fort Lauderdale, Orlando, San Juan, and Los Angeles) as well as Big Four airline hubs (Las Vegas, Dallas, Houston, Chicago, Detroit, Atlanta, and Miami). The combined airline will have a fleet of 458 aircraft on a pro forma basis and an order book of over 300 Airbus aircraft with fuel-efficient, lower-carbon new engine option, or neo, engines, providing increased flexibility and efficiency while mitigating the risk of limited availability of aircraft.
---
*** Follow me on Instagram, Youtube, Twitter or Facebook for a daily moment of travel inspiration ***
---